30 years of experience in olive oil quality & evaluation
Always by your side for the olive oil quality
Welcome to the Sensory Evaluation Laboratory of Crete ACR
Our laboratory with modern facilities, experienced team of tasters, certification  according to ISO17025 by E.SY.D./nr.1117 and recognition by the International Olive Counsil, continuously supports the olive oil sector with a plethora of activities and services.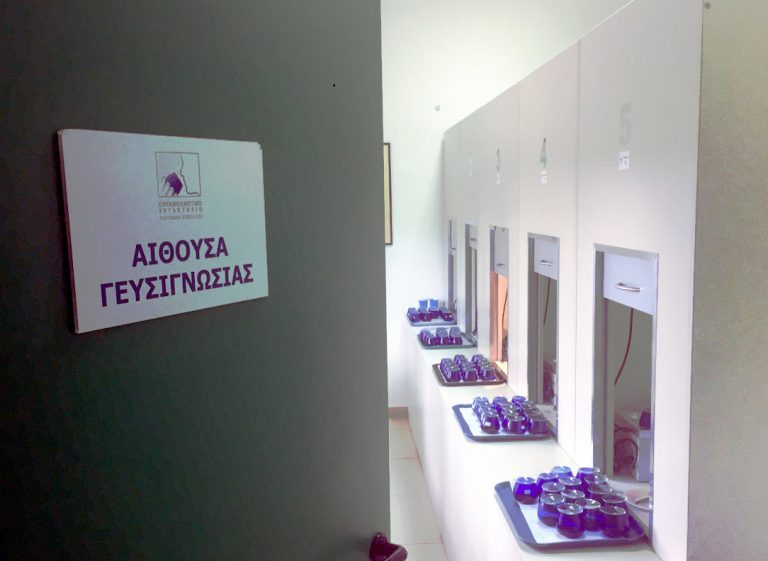 Quality & Olive Oil Organoleptic Evaluation
The sensory (or organoleptic) evaluation of olive oil, is an official and worldwide recognised method for detect, measure and describe the positive and negative characteristics of virgin olive oils by using the human senses and classifies the sample in one of the following categories, according to the existing legislation:
> Extra Virgin Olive Oil (EVOO)
> Virgin Olive Oil (VOO)
> "Lampante Oil (non-consumable)"
Comments for our laboratory and our activities
Your guidance, your professionalism and your immediate response to issues related to my first participation in the Olive Oil competition are exemplary and commendable.
Thank you very much for your cooperation, kindness and valuable help through your excellent knowledge in the field of olive oil.
I would like to congratulate you on the excellent seminar we attended today
Pleasant atmosphere, with an emphasis on the detail
Very encouraging, food for thought, discussion and group action, thank you very much
Let's stay in touch. Subscribe to our newsletter!
To be always informed about our news or our new seminars, subscribe to our newslleter by entering your email address below.